WHO WE ARE
The company SKARTEK was founded by managers interested in continuous personal development and growth in the multicultural environment. SKARTEK was created to take the best from both, Slovak and French culture and manage the differences of the two cultural backgrounds in order to maximize the benefits of this diversity and achieve the determined goals.
Our slogan: Every problem has its solution
WHAT WE DO
The company SKARTEK is focused on special installations, automated lines, robotic islands, camera systems. Our role is to ensure that mass-production companies produce faster, deliver higher quality and reduce maintenance problems. We manage your project from Start to Finish including technical analysis, specification, design, in-house production, assembly, installation, troubleshooting, support, site acceptance and performance tests and maintenance.
HISTORY
The company SKARTEK was founded in 2010 with the ultimate objective to benefit from the french and the slovak complementarity in order to achieve the highest quality at the lowest price. We offer a wide range of industrial solutions from engineering through the serial production to manufacturing of any prototype.

In 2013, the company moved to rented premises in Trnava with an area of 800m2. This allowed us to expand our production capacities and increase the volume of our projects.

Taking into account the market development and the increasing number of requests from our customers for the delivery of a complex solution, SKARTEK decided to create a complementary sister company SKARELEK.

It was established in 2012 and provided solutions in the field of electrical installations, automation and robotics.

In 2015 SKARTEK acquired SKARELEK and merged its activities into one entity. The acquisition of SKARELEK enabled us to unify resources, strengthen the growth and competitiveness and expand the field of competences.

At the end of 2018, due to the increasing production volume, the company moved to the new own premises in Vlčkovce.

With an area of 2200 m2 the company can exercise all the activities, from design, documentation to production, under one roof. The new premises enabled us to increase the in-house production, improve logistics, expand production capacities and thus the opportunity to move forward.

SKARTEK also holds its own laboratory where we cooperate with Slovak and foreign universities in order to develop the new technologies.

In 2019 SKARTEK together with the companies LETKEN and SKYGRIP created a holding GPB Technology. Thanks to the synergy of the 3 companies we managed not only to increase the competitiveness and the market share but also enter into new markets.
AWARDS AND CERTIFICATES
In 2017 SKARTEK was awarded the 2nd place in the ranking TOP 10 companies in the category Domestic company with a turnover of 2 – 10 million EUR.
Since October 2018 we proudly hold and ISO 9001 quality certification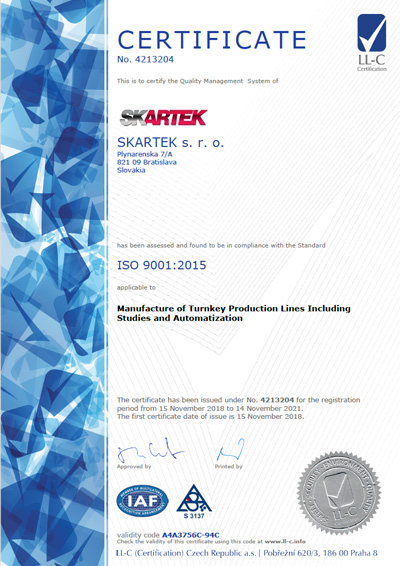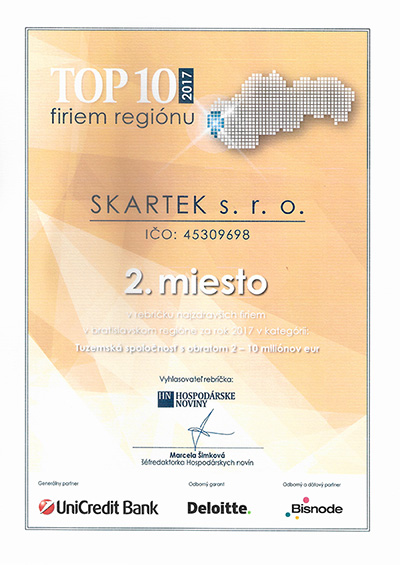 ---